Mattress Pads
To ensure your sleep environment remains healthy and clean, a mattress pad from Bowles is a smart investment. The right mattress protector can help control bed bugs, dust mites and other common allergens found in mattresses.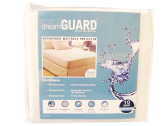 Dream Guard Micro-Fleece Mattress Protector
The Dream Guard waterproof mattress protector is a stretchable soft touch fleece. It will fit up to a 22" mattress. It is waterproof, breathable and protects against dust mites.
*Some exclusions apply. See warranty for complete coverage details.
Learn More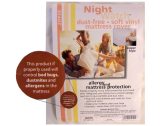 Vinyl Zip-On Cover
"This product if properly used will control bed bugs, dustmites and allergens in the mattress."
Stay-soft vinyl protects your mattress from spills and stains.
Zipper style encloses mattress completely.
Keeps your mattress clean and fresh.
Sanitary - wipes clean with damp cloth. Available in Twin, Twin X-Long, Full, Queen, King Sizes in 9" thickness.
Learn More